The Smart classrooms are equipped with latest configuration PCs with Projector and other amaneties to enhance teaching-learning process. Fully Air-conditioned ICT enabled classrooms that provides an environment where leaning happens naturally.
The classrooms have been designed exploiting Natural Elements like wind, daylight & positioning with sun diagram. This adds to not only the ambience but also the functionality of the purpose. The chairs in the classrooms are ergonomically designed to make the students stay for the day comfortable & relaxed. Care is also taken in the smallest details such as maintaining roominess by optimizing length & breadth ratio and eliminating the generation of echoes. All the classrooms are ready with Audio-Visual (Multimedia) Facilities.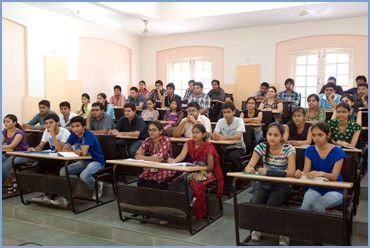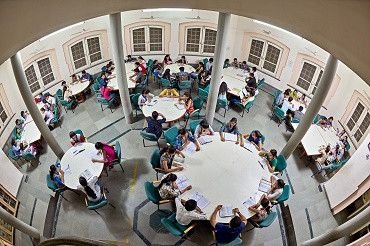 We are the first in the state to have right from the inception Encyclopedia Britannica and Mc. Graw Hill Encyclopedia of Science & Technology. The Library also subscribes to Journals & Periodicals of Technical & General Interests. The Library also houses over 19,000 Books on various subjects ranging from Technology, Pharmacy through Management to Knowledge Resources & Personality Development.
The 300 Chairs placed in the Library is outcome of smallest detailing worked out in selecting ergonomic chairs for the students. Also the whole Library Management System is made fully automated where in the students uses RFID (Radio Frequency Identification System) for various functioning like book search, issue and return. We are the first in the State to launch this RFID System for various modules of Campus Management.
BITS Edu Campus computing environment gives members of the community access to a rich array of technologies and information resources for academic, research, and administrative use. We have a central computing facility with High configuration computers in LAN with High Speed 48 MBPS Internet Connectivity. The academic and administrative departments, laboratories and the central library maintain their own computing facilities. Additional facilities like Scanning, Printing (black & Color), CD & DVD Writing etc are facilitated to the students here. This Lab is consists of 4 High-speed Servers to control the Networking and share internet on the client PCs.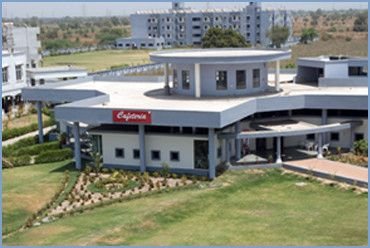 Right from the very first day of its inception BITS Edu Campus has provided its students with the facility for food, where they get breakfast, lunch and all other stuff. All health oriented measures are taken here for maintaining neat and clean hygienic space for all.
BITS Edu Campus can boast of two State-of-the Art Auditorium with capacity of 200 and 180 fixed cushioned chairs respectively on a gradient floor and a raised stage with a podium. Both auditorium are complete with multi-media facility comprising LCD Projector, Large Screen and Wi-Fi internet. There exist appropriate lighting with variable illumination. The walls are fixed with suitable surface tiles to provide echo-free acoustics
There is a state-of-the-art modern workshop, spread over 17500 sq. ft, which in itself is a construction marvel with two roofs spanning across the entire workshop supported only at the hinges. It houses smithy, carpentry, fitting and tool shops and is equipped with CNC engraving machine, CNC turning centre with eight-station turret and simulation software, fully operational foundry, CAD/CAM facility besides other advanced gadgets, lathes & mechanical process machines.
With a key focus on developing a self-sustained residential campus, Hostel facility is provided with separate accommodation for Male and Female students, with fully furnished AC and Non AC (2 bed & 3 bed) rooms having attached bath, balcony and a common Dining Hall as well as Audio-Visual Lounge.